Biography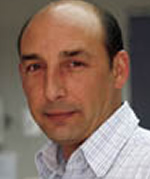 I received my Marine Biologist professional title under the instruction of Dr. Tarsicio Antezana from Universidad de Concepción, Chile (1993) and performed my PhD Thesis in Cell and Molecular Biology under the supervision of Dr. Nibaldo Inestrosa at the P. Universidad Católica de Chile (2001). I was awarded a PEW-Latin American Fellowship to receive Post-Doctoral training in Molecular Biology and Genetics under the guidance of Dr. Randall T. Moon, at the Department of Pharmacology of the University of Washington School of Medicine in Seattle (USA; 2002-2004). I currently hold an Affiliate Assistant Professor position at that Institution. Back in Chile I was appointed as an Assistant Professor (2004) and then as an Associate Professor (2009) at the Department of Biochemistry and Molecular Biology, Faculty of Biological Sciences, Universidad de Concepción, Chile. Since 2010, I hold an Associate Professor position at the Center for Biomedical Research, in the Faculty of Biological Sciences and Faculty of Medicine, Universidad Andrés Bello, Santiago-Chile.
During my professional career I have been a Visiting Scientist at the Hawaii Institute of Marine Biology (USA; Dr. M. Huntley), the Weizmann Institute of Sciences (Israel, Dr. I. Silman), the Mayo Clinic Jacksonville (USA; Dr. T. Rosenberry), the National Institutes of Health in Bethesda (USA; Dr. J. Hardy), the Center for Stem Cell and Regenerative Medicine in Seattle (USA; R.T. Moon), and the University of Ioannina (Greece, Drs. J. Ioannidis, and E. Evangelou). My work has been published on renowned scientific journals including Molecular Psychiatry, Proceedings of the National Academy of Sciences (USA), Nature Reviews Genetics, Oncogene, the Journal of Biological Chemistry and Brain Research Reviews, among others.
Since 2004, I am and have been directly involved in the formation of 27 students: 2 Postdoctoral fellows, 6 PhDs Thesis (3 completed), 8 Masters Thesis (4 completed) and 11 Thesis for undergraduate students (all completed). I also participate as an expert reviewer for CONICYT-FONDECYT grants in the regular, beginner and postdoctoral competitions (member Group BIOL-3 since 2013) and am currently the Chair of the National Committee for the Pew Programs in the Biomedical Sciences (2014-2015). Finally, I have been invited to peer review for various scientific journals and international grant agencies, such as the Alzheimer´s Research Trust in UK and the Alzheimer's Association in USA.
Research Description
Our research has been devoted to understand the functional activity of Wnt signaling components in prevalent neurological conditions such as Alzheimer's disease and Autism. More recently, we began to examine the role of the Wnt signaling cascade during the onset or development of cancer, particularly in leukemia. To this end we use multiple approaches including cellular/molecular biology and protein-protein interaction techniques, as well as high-throughput genetics/genomics and bioinformatics.
Key Publications
Ugarte, G.D., Vargas, M.F., Medina, M.A,, León, P., Necuñir, D., Elorza, A.A., Gutiérrez, S.E., Moon, R.T., Loyola, A., De Ferrari, G.V. (2015) Wnt signaling induces transcription, spatial proximity, and translocation of fusion gene partners in human hematopoietic cells. Blood. 126:1785-9.
Avila, M.E., Sepúlveda, F.J., Burgos, C.F., Moraga-Cid, G., Parodi, J., Moon, R.T., Aguayo, L.G., Opazo, C., De Ferrari, G.V. (2010) Canonical Wnt3a modulates intracellular calcium and enhances excitatory neurotransmission in hippocampal neurons. J. Biol. Chem. 285:18939-47.
De Ferrari, G.V., Papassotiropoulos, A., Biechele, T., Wavrant De-Vrieze, F., Avila, M.E., Major, M,B., Myers, A., Sáez, K., Henríquez, J.P., Zhao, A., Wollmer, M.A., Nitsch, R.M., Hock, C., Morris, C.M., Hardy, J., Moon, R.T. (2007) Common genetic variation within the low-density lipoprotein receptor-related protein 6 and late-onset Alzheimer's disease. Proc. Natl. Acad. Sci. U. S. A. 104:9434-9.
De Ferrari, G.V., Chacón, M.A., Barría, M.I., Garrido, J.L., Godoy, J.A., Olivares, G., Reyes, A.E., Alvarez, A., Bronfman, M., Inestrosa, N.C. (2003) Activation of Wnt signaling rescues neurodegeneration and behavioral impairments induced by beta-amyloid fibrils. Mol. Psychiatry. 8:195-208.
De Ferrari, G.V., Inestrosa, N.C. (2000) Wnt signaling function in Alzheimer's disease. Brain Res. Brain Res. Rev. 33:1-12.