Biography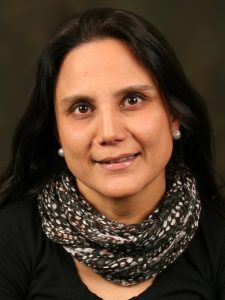 Dr. Alejandra San Martín graduated as a Biochemist from the Catholic University of Chile in 1998 and obtained her Ph.D. in Molecular and Cellular Biology from the same institution in 2004. During her graduate training, she focused on clinical studies investigating how diet and wine impact plasma polyphenols and antioxidants in Chilean subjects, as well as mechanistic studies on how advanced glycated products activate the NADPH oxidase. From 2004 to 2009, she pursued a post-doctoral fellowship at Emory University under the mentorship of Dr. Kathy Griendling, where she delved into NADPH oxidase-mediated redox signaling and the differentiation of Vascular smooth muscle cells. She assumed the role of Assistant Professor of Medicine at Emory University in 2009 and was subsequently promoted to Associate Professor in 2018. In 2023, she joined the Institute of Biomedical Science at Andres Bello University.
Dr. San Martín's academic trajectory is anchored in basic research in the biomedicine field.
Her research focuses on vascular biology, with a particular emphasis on studying the phenotypic changes of vascular smooth muscle cells (VSMCs). Her lab has produced over 50 peer-reviewed publications. She has successfully secured several highly competitive research projects, including K99/R00, R01, and P01 grants, bestowed by the United States National Institutes of Health (NIH). She has actively contributed to study sections for the NIH Center for Scientific Review (CSR), the American Heart Association (AHA), and the Science Ministries of the governments of Italy and France.
Dr. San Martín is an esteemed member of the Chilean Society of Cell Biology and the American Societies of Cell Biology, Biochemistry, and Molecular Biology. Additionally, she is affiliated with the American Heart Association and the Society for Redox Biology and Medicine (SFRBM). She has also served as a guest editor for the Antioxidant and Redox Signaling and Cells journals and currently holds the position of associate editor for the renowned Circulation Research journal.
Dr. San Martín has been involved in graduate teaching as part of the Molecular and Systems Pharmacology graduate program. She has mentored four PhD students and eleven post-doctoral fellows as well as several undergraduate students.
Research Description
Our lab has made significant contributions to understanding redox-sensitive and insensitive pathways regulating the cytoskeleton, particularly in vascular smooth muscle cells (VSMCs). Our research sheds light on VSMC migration regulation, adhesive force generation, and responses to mechanical stimulation. Notably, we highlighted the role of Slingshot1L (SSH1L), a phosphatase of cofilin, in PDGF-induced migration control. Furthermore, we identified cofilin as redox-regulated downstream of a Nox1-based NADPH oxidase, expanding our insights.
Recent focus shifted towards mitochondrial metabolism and cell bioenergetics. Our work linked metabolism to VSMC differentiation. Exploration extended to lipoylation, a rare but conserved lysine posttranslational modification. We identified ACSM1 as the mammalian lipoate activating enzyme (LAE), and along with LIPT1, demonstrated their collaboration in a complete lipoylation reaction. This discovery answered a longstanding query and highlighted the role of lipoic acid in cancer cell metabolism and proliferation.
Key Publications
– Paredes F, Sheldon K, Lassègue B, Williams HC, Faidley, EA, Benavides, G, Torres G, Sanhueza-Olivares F, Yeligar SM, Griendling, KK, Darley-Usmar, San Martín A. Poldip2 is an oxygen-sensitive protein that controls PDH and αKGDH lipoylation and activation to support metabolic adaptation in hypoxia and cancer. Proc. Natl. Acad. Sci. U.S.A. 115 (8):1789-1794; 2018.
– Paredes F, Williams HC, Quintana R, San Martín A. The mitochondrial protein Poldip2 controls VSMC differentiated phenotype by O-linked GlcNAc transferase-dependent inhibition of a ubiquitin-proteasome system. Circulation Research 126(1):41-56; 2020.
– Fernandez I, Martin-Garrido A, Zhou DW, Clempus RE, Seidel-Rogol B, Valdivia A, Lassègue B, García AJ, Griendling KK, San Martín A. Hic-5 mediates TGFβ-induced adhesion in vascular smooth muscle cells by a Nox4-dependent mechanism. Arterioscler Thromb Vasc Biol. 35(5):1198-206; 2015.
– Maheswaranathan M., Gole H., Fernandez I., Lassègue B., Griendling K.K., San Martín A. PDGF regulates slingshot phosphatase activity via Nox1-dependent auto-dephosphorylation of serine 834 in vascular smooth muscle cells. J Biol Chem, 286(41), 35430-7; 2011.
– Williams HC, Ma J, Weiss D, Lassègue B, Sutliff R, San Martín A. The cofilin phosphatase slingshot homolog 1 restrains angiotensin II-induced vascular hypertrophy and fibrosis in vivo. Lab Invest. 99(3):399-410; 2019.
– San Martín A., Lee M.Y., Williams H.C, Lassègue B. & Griendling K.K. (2008). Dual regulation of cofilin activity by LIMK and slingshot 1L phosphatase controls PDGF-induced migration of human aortic smooth muscle cells. Circulation Research, 102(4) 432-438; 2008.
For a full list of publications please click here