Biography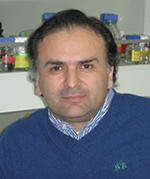 Dr. Martin A. Montecino graduated as a Biochemist from the University of Concepcion in 1989 and received his Ph.D. in Biomedical Sciences from the University of Massachusetts Medical School, at Worcester, USA, in 1996. He has been working in the field of epigenetic control of gene expression since becoming a graduate student and subsequently as an independent investigator at the University of Concepcion in 1997, at which he became Professor of Biochemistry and Molecular Biology in 2004. In 2010, he moved to the Andres Bello University, at Santiago, Chile, to become Director of the Center for Biomedical Research and Deputy Director of the FONDAP Center for Genome Regulation, a Center of Excellence supported by CONICYT. During the years 2005 and 2006, he served as President of the Chilean Society for Cell Biology. Throughout his career, he has authored or co-authored more than 140 peer-reviewed publications and 21 book chapters. Additionally, he has directed the work of more than 20 doctoral thesis students, 9 post-doctoral fellows as well as numerous under-graduated and master's thesis candidates. Also, he has been Leader Investigator in numerous nationally and internationally funded research grants in the field of gene regulation mechanisms. Currently, he serves in the editorial board of several scientific journals, including Biological Research, Journal of Cellular Biochemistry and Eukaryotic Reviews in Gene Expression, together with his role as Executive Editor of Gene and Associate Editor of Biochemistry and Cell Biology.
Research Description
The laboratory of Dr. Martin Montecino is addressing epigenetic mechanisms that control chromatin remodelling and transcriptional activity during mammalian cell lineage commitment. Particular attention is dedicated to study these mechanisms during mesenchymal-osteoblast differentiation, concentrating the efforts in bone-specific genes that are regulated in response to extra cellular stimuli, including Vitamin D3 and BMP. During the last few years, the research focus has been also directed towards defining epigenetic mechanisms controlling the expression of genes associated with neuronal differentiation and function. Among the specific scientific questions that are currently addressed by the team we find: 1) defining molecular determinants that mediate the specific recruitment of regulatory complexes that remodel chromatin and facilitate transcription to target genes, including the contribution of tissue-specific transcription factors as well as short and long non-coding RNAs, among others. 2) Assessing epigenetic mechanisms that control osteoblast- and neuron-specific transcription. 3) Defining mechanisms associated with BMP-2- and vitamin D3-enhanced transcription of bone-related genes.
Key Publications
Grandy, R., Sepulveda, H., Aguilar, R., Pihan, P., Henriquez, B., Olate, J., Montecino, M. (2011) Ric-8B gene is highly expressed in proliferating pre-osteoblastic cells and down-regulated during osteoblast differentiation in a SWI/SNF- and C/EBPb-dependent manner. Mol. Cell. Biol. 31: 2997-3008.
Bravo, S., Nuñez, F., Cruzat, F., Cafferata, E., De Ferrari, G., Montecino, M., Podhajcer, O. (2013) Enhanced CRAd activity using artificial enhancers including nucleosome positioning sequences and Wnt-responsive elements. Mol. Ther. 21: 1403-1412.
Aguilar, R., Grandy, R., Sepulveda, H., Meza, D., Pihan, P., van Wijnen, A.J., Lian, J.B. Stein, G.S. Stein, J.L., Montecino, M. (2014) A functional N-terminal domain in C/EBPb-LAP* is required for interacting with SWI/SNF and to repress Ric-8B gene transcription in osteoblasts. J. Cell. Physiol. 229: 1521-1528.
Rojas, A., Aguilar, R., Henriquez, B., Lian, J.B., Stein, J.L., Stein, G.S. van Wijnen, A., van Zundert, B., Allende, M.L., Montecino, M. (2015) Epigenetic control of the bone-master regulator Runx2 gene during osteoblast lineage commitment by histone demethylase JARID1B/KDM5B. J. Biol. Chem. 290: 28329-28342.
Aguilar, R., Bustos, F., Saez, M., Rojas, A., Allende, M., van Wijnen, A., van Zundert, B., Montecino, M. (2016) Polycomb PRC2 complex mediates epigenetic silencing of a critical osteogenic master regulator in the hippocampus. Bioch. Biophys. Acta Gene Reg. Mech. 1859: 1043-1055.