Biography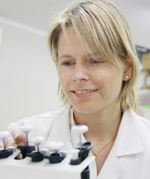 Brigitte van Zundert graduated as a Biochemist from the "Hogeschool West-Brabant", (the Netherlands) (1993). She obtained her Master`s degree in Molecular Biology from the University of Utrecht (the Netherlands) (1996), while performing her thesis at UMass (Worcester, USA), which was focused on transcriptional regulation. In 1996, she moved to Chile, where she obtained her PhD degree in Molecular and Cell Biology from the University of Concepción (UDEC) (2002). Her thesis focused on the molecular mechanisms underlying glycine receptor clustering at synapses. She was awarded "the Best Doctoral Thesis" by the «Chilean Foundation for Cell Biology». From 2002 to 2005, she received a 3 years duration joined post-doctoral training at the Massachusetts Institute of Technology (MIT) and Harvard Medical School, where she worked on two projects: (i) Role of synaptic glutamatergic receptors and their anchoring proteins during synapse development, and (ii) Characterization of early pathology in neonatal animal models of the adult neurodegenerative disease Amyotrophic Lateral Sclerosis (ALS). In 2005, she started her independent laboratory at the UDEC, but moved in 2010 to the Center for Biomedical Research (CIB) – now Institute of Biomedical Sciences (ICB)- at the U. Andres Bello (UNAB, Santiago, Chile), where she is currently Full Professor. Actually, she is also principal investigator at the Center of Aging and Regeneration (CARE) from the Pontifical Catholic University of Chile (CARE UC).
Research Description
Her laboratory studies molecular and cellular mechanisms underlying brain plasticity and neuroepigenetics in health (learning & memory) and in disease (ALS, frontotemporal dementia, Alzheimer's disease and Huntington`s disease). More recently, her laboratory started to study the underlying molecular mechanisms by which external factors (i.e. urban air pollution) contribute to disease pathogenesis and cognitive deficits. In the last 5 years, her group has published over 25 research articles in international journals, highlighting the recent paper in Brain. She was awarded with «The most outstanding young scientists 2010» by the «Chilean Society for Biology». As of today, Dr. van Zundert has directed 14 Undergraduate/Master thesis students, 5 PhD thesis students and 8 Postdoctoral fellows. Currently, as principal investigator her laboratory receives funding from national (FONDECYT and CONICYT-BASAL) and international (ALSA Association, FightMND) agencies.
Key Publications
Bustos, F.J., Varela-Nallar, L., Campus, M., Henriquez, B., Philips, M., Opazo, C., Aguayo, L.G., Montecino, M., Constantine-Paton, M., Inestrosa, N., van Zundert, B. (2014) PSD-95 suppresses dendritic arbor development in mature hippocampal neurons by occluding the clustering of NR2B-NMDA receptors. Plos One 9(4): e94037.
Henriquez, B., Bustos, F.J., Aguilar, R.A., Becerra, A., Simon, F., Montecino, M., van Zundert, B. (2013) Polycomb group proteins Ezh1 and Ezh2 differentially regulate PSD-95 gene expression in developing hippocampal neurons. Mol. Cell. Neurosci, 57: 130-43.
Rojas, F., Cortes, N., Abarzua, S., Dyrda, S., van Zundert, B. (2014)Astrocytes expressing mutant SOD1 and TDP43 trigger motoneuron death that is mediated via sodium channels and nitroxidative stress. Front. Cell. Neurosci. 8:24.
Fritz, E., Izaurieta, P., Weiss, A., Mir, F.R., Rojas, P., Gonzalez, D., Rojas, F., Brown, R.H. Jr, Madrid, R., van Zundert, B. (2013) Mutant SOD1-expressing astrocytes release toxic factors that trigger motor neuron death by inducing hyper-excitability. J. Neurophysiol, 109 (11): 2803-2814.
van Zundert, B., Izaurieta, P., Fritz, E., Alvarez, F.J. (2012) Early pathogenesis in the adult-onset neurodegenerative disease amyotrophic lateral sclerosis. J. Cell. Biochem.113:3301-3312.